Home - ESET NOD32 Antivirus
Discover Fast and Powerful Protection Antivirus
Enjoy your time online. Protected with ESET NOD32 Antivirus – social networking, using the internet or gaming.
Antivirus, Antispyware, Anti-Phishing, Gamer Mode, Social Media Scanner, Exploit Blocker, Advanced Memory Scanner, Device Control
Rely on our proven Antivirus and Antispyware protection – with unique detection technology.
Protect yourself against targeted threats with our Exploit Blocker and malware avoiding traditional detection – with Advanced Memory Scanner.
Enjoy the full power of your computer - Play, work or connect without slowdowns. Our software leaves more power for what you enjoy.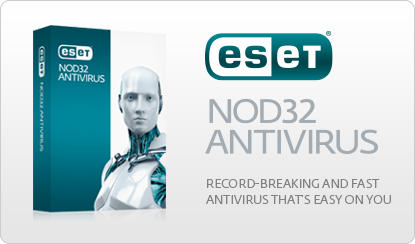 Business - ESET Endpoint Security
Comprehensive, multi-layered protection
Complete protection for company endpoints combining proven antivirus and antispyware technology with a built-in firewall, web control and advanced remote administration tool.

Business Benefits
Endpoint Protection
Keep company endpoints free of malware with ESET ThreatsSense and cloud-powered scanning technology and filter email traffic for spam with a powerful antispam solution.
Data Access Control
Secure company data from foreign interference with two-way Firewall also preventing unauthorized persons "listening in" to company communication when in public Wi-Fi. Prevent connections of unauthorized devices to the network like USB, CDs and others.
Employee Effectiveness
Prevent employee access to non-work-related websites. Keep company computers running smoothly and extend the lifetime of hardware thanks low system demands. Keep out distractions like pop-ups during presentations or slideshows.
Administrator Effectiveness
Manage all past, present and future ESET security solutions from a single location, putting admins in perfect control of network security.
Reporting
Keep admins abreast of network security from outside the company. Take advantage of advanced monitoring and reporting tools for complete oversight and to take immediate action.
Update Management
All ESET solutions are built to preserve network speed and stability and smooth and reliable operation and come with a range of tools and customization options to ensure a consistent level of security.